Welcome to the Spotlight!
Executive Chef: Padua Player
Chef Padua Player aka SugaChef
How do you find your voice and express yourself when you are the youngest of seven children? The answer: You take a lifelong passion and turn it into a sweet, artistic success! Executive Pastry Chef Padua Player, also known as SugaChef, is as dedicated as they come and he is serious about his desserts.
Chef Padua has been praised for his work by Vice President Biden, featured on
Platinum Weddings
and was a competitor on
Food Network's Sweet Genius
hosted by famed Pastry Chef, Ron Ben Israel. He won the
2013 Capital Food Fight's High Stakes Cake Battle
in DC, hosted by Duff Goldman, has his own line of gourmet jams, and has provided his sweet delicacies to countless celebrity clientele.
Chef Padua also lends his time and pastry talents to DC Central Kitchen, which trains unemployed adults for culinary careers, serving healthy school meals, and rebuilding urban food systems through social enterprise.
Website:
www.sugachef.com
Twitter: @SugaChef
Facebook:
www.facebook.com/sugachefdesserts
Instagram: @SugaChef
CEO: Keith Barney
Keith Barney is the lead tech and CEO of Visions Business Services, LLC. Visions Business Services is a Baltimore-based technical services company. They provide computer repair, networking, web design and development; wed hosting, graphics, document management, technical consulting and various other technical services. In addition, Visions Business Services, LLC engages in various Internet-based business activities and owns several web spaces. Visions Business Services is an Amazon Affiliate and Keith Barney is an accomplished blogger.
Keith is a product of Baltimore City College High School and Morgan State University. He holds certifications, including A+ and Net+. Mr. Barney has more than 15 years of document management, web design, computer repair, and copier fleet management experience. He has extensive knowledge of HTML, PHP, CSS, and JavaScript, among other web and server based coding and/or languages. In addition, he has been trained and has expert level knowledge of various productivity software's, including Adobe Suite (Acrobat, Photoshop, Dreamweaver, etc.), MS Office suite, E-copy and other copier/printer software, E-capture, Doculex and a vast array of audio visual applications. Keith Barney has a well rounded and wide-ranged technical knowledge.
Keith Barney is a husband and father that places great value in family and close friends. His interests include sports, roller skating, aquariums and new technologies. Keith Barney loves to read, but tends to read current events publications and technical-based publications. His favorite quote is "…could be worse" and he tries to live his life in a manner that reflect his belief that your situation, no matter how bad, could actually be worse!
Organizations: Black Professional Men
Social Media:
Twitter- @VBSTECH
@bmoreinform
LinkedIn- Keith Barney
Facebook- vbstech
Links:
Visions Business Services' small business blog. Suggested reading and business articles
Visions Business Services web hosting portal. Open your high quality hosting account. The .net website also has great web hosting articles and information.
Amazon Affiliate Links
If you shop at Amazon, please use our link to go to the Amazon website, then shop as you usually would!
VBS Owned Web-spaces
Blog highlighting parties, events and festivals in Baltimore
Website about watches and watch sales
Website about socks and sock sales
Website about purses and handbags and purse sales
Website about tools that caters to women. Sex toys, household tools and more.
Visions Business Services, LLC
Entrepreneur:
Sha' Summerlin
Sha' Summerlin is a 20 year Beauty Industry veteran, ASCAP Singer/Songwriter, and Founder of PRIMP Agency.
Summerlin is what you call a trailblazer. As one of her longtime business associates put it, "Sha' is just one of those people who-no matter where they reside in the world-is going to make her mark. And you will definitely know who she is before she leaves."

A licensed beauty professional since 1994, a professional vocal performer and natural born leader, it made sense that the Coffee County, Alabama native would eventually fuse all of her passions into one successful and meaningful venture. So instead of booking music professionals she began to book beauty professionals. Instead of producing live band shows, she produces music-infused fashion and charity events. Summerlin also serves as the Creative Director for lifestyle magazine, RazorsEdge.
PRIMP Agency, Summerlin's professional styling company, provides licensed, freelance makeup artists, hair stylists and fashion groomers for high profile Productions (live/taped), Publications, Personalities, Entertainers, TV, Film, Special Events and Photo Shoots. Models are provided as well.
With innovation and
perseverance
, Sha' has taken her vision and made it a very cool reality.
Her motto? "PRIMPin' ain't easy...but we make it look GOOD." Her work ethic? "We enjoy what we do and have fun doing it, but when it's time to work...we werk!"
SUMMERLIN'S

AGENCY CREDITS INCLUDE:
CNN INTERNATIONAL

MERCEDES BENZ FASHION WEEK--NY

2013 AMBASSADORS INAUGURAL BALL

ATLANTIC CITY FASHION WEEK

MISS BLACK USA PAGEANT

MARIO FRANGOULIS, I'NTL TENOR

AFRICA FASHION WEEK NYC

THE HEART & SOUL AWARDS

COUTURE FASHION WEEK- NY

PROJECT RUNWAY Designers

ELDER BERNICE KING (Daughter of the Late Rev. Martin Luther King)

Boris Kodjoe (Actor/Resident Evil)

Nicole Ari Parker (Actor/Remember The Titans)

Vanessa A. Williams (Actress/Singer)

Princess Omilani of Nigeria

Cynthia Bailey (Supermodel/Real Housewives of Atlanta Star)

Elise Neal (Actress)

Rebecca Crews (BET) & others.
FB: Facebook.com/ShaSummerlin AND Facebook.com/PRIMPAgency
IG/Twitter: @shaprimpagency AND @primpagency
Mompreneur: Julie Pierce
I expertly deliver technical and biblical knowledge in accessible language that is easy and useful to implement."
I'm a published writer and author including
newspaper op-eds and an anthology of poetry,
Discord, Disillusionment and Determination
. Additionally I am an avid blogger at
Mountmom.com
and
Christianmommyblogger.com
. I'm the G+ Manager & Moderator for the Christian Mommy Blogger Community.
On MountMom.com I share devotionals to help others apply scriptural truth to their lives and to provide inspiration.
On ChristianMommyBlogger.com, I provide tips for other bloggers to help improve their blogs so that they can expand their reach. Inspiration can come while climbing a mountain!
I'm a graduate of Yale University with a BA degree in Sociology (Organizational Behavior) and continued my education with an MBA in Finance at Keller Graduate School of Management, focusing on organizational behavior and the financial implications of policies and procedures
.
With over a decade of civil service experience, I am an expert in how government policies affect different segments of the population.
I teach, train, write and share my knowledge in any way I can.
Master Stylist: Brandi Dickerson
Style. Sophistication. Luxury. Glamour.
Those are four words I use on a regular basis when I'm discussing my services through Bee Chic Imagez. My name is Brandi Dickerson and I am the Master Stylist of my company Bee Chic Imagez. My number one priority is to make women feel beautiful and confident. I do this by providing licensed, professional hairstyling, makeup artistry and wardrobe styling.
Of course, you probably know of 100 makeup artists, hairstylists, wardrobe stylist or image consultants within your network. Why would you add another one?
It's simple. I offer a premier service called the Triple Threat Styling Solution. This service is for the woman who wants to experience an educational and transformational journey by enhancing their style in makeup, hair and wardrobe. Clients who use the Triple Threat Styling Solution receive exclusive consultations and styling in all three areas by ONE experienced person. No more searching for three different people to solve one specific problem—your image.
My company is backed by more than 10 years in the beauty industry with multiple certifications and licenses to ensure my clients are receiving the best services from a real professional.
Your image means the world to you and it's the first thing people notice when you walk into a boardroom, social event or even your everyday outings. Why not make it a lasting impression using my services?
Artist: Cyrus Drayton
From a family of singers and musicians, it was inevitable that he would continue the tradition. Cyrus is a very unique vocalist with an unquestionable rare and alluring voice. Classically trained combined with the blending of rich gospel roots and Rhythm and Blues that he was raised on, is fused into his version of the newly emerging neo-soul sounds that are capturing the contemporary radio airways.
Raised in Baltimore, Maryland and deeply grounded in the historical Bethel A.M.E. Church, it was in the church that he discovered his gift, love and passion for music. Groomed as a prodigy under the late nationally acclaimed vocal coach, pianist and theorist, Harian O. Scott and performing professionally since age 8, he can be considered a "true veteran" in this industry.
At age of 10, Cyrus was asked to perform the state's official song at the Governor of Maryland's private ball, which included local and world renowned celebrities such as Carole Channing. Being recognized and cited by the Governor, Cyrus was requested to perform at the inauguration for Baltimore's first African-American mayor Clarence DuBurns. Shortly after, he was offered a recording contract after his magnetic performance at Baltimore's famous Pier Six pavilion; however, his parents declined as they wanted him to focus more on education. At the age of 14, Cyrus auditioned and was accepted in Baltimore's prestigious School for the Arts. It was there that he was introduced to classical and operatic music.
After graduating high school, Cyrus continued to entertain and captivate audiences throughout the Baltimore and D.C. arenas and became an accomplished songwriter. Several of his original projects have been played over many airways gaining wide recognition.
Cyrus first came to the attention of Trebor Records CEO, Robert C. Bell at a talent showcase present by popular Baltimore radio personality Randy Dennis. While impressed with his talent, the professional relationship came some months later as a result of a telephone call from Cyrus. The rest as we say is history. Says Bell; "Cyrus is a tremendous talent who has demonstrated the persistence and dedication that it takes to be a major entertainer. I look for really big things to happen for Cyrus".
While many artists strive to establish their musical identity, Cyrus has emerge fully designed and in complete control of his craft. Cyrus's debut CD, "Come Home," released January 2006 has been well been received on a national and international level, and continues to sell after its' initial release. Cyrus' second CD, titled "Tail Spin, was released in 2013. The album spawned and has been receiving rave reviews on the co-written song "What Goes Around" and Robert Bell's "Why She Had To Be So Good" are captivating audiences around the country.
Cyrus holds an Associate's or Arts, Bachelor's of Social Work and Master's of Clinical Social Work degrees and is a licensed mental health therapist. Although Cyrus is proud of his academic achievements, he is most excited when he is writing music, in the recording studio or performing. According to Cyrus, "I've kept my promise to my mom and dad about receiving an education, and now it's time for me to take pleasure in what I enjoy the most, music."
For booking information contact
Click here to:
Email for Bookings or CD Information
Click here:
To downlaod Cryus Drayton "Tail Spin" CD
www.ccmusic.com
www.amazon
.com
www.cdbaby.com
www.reverbnation.com
Business Man: Kevin W. Ferere
Kevin W. Ferere
kevinferere@gmail.com 347-850-2143
I never saw myself writing books, or anything for that matter. But I always found myself in situations giving advice on dating and life. Ever since I was old enough to date, people have always been intrigued by what I have to say concerning their circumstances.
Considering everything I've experienced in my own dating life; I never wanted someone to come in contact with me and afford themselves to say "no one ever told me so". This is because I know how that feels. I know how it feels to not be given the proper guidance and go into situations without the slightest clue of what I was doing, or what it took to accomplish
whatever it was I was trying to do.
I found myself, constantly learning things the hard way and stumbling on my face; chasing after what society, friends, and especially family told me I was supposed to strive for. Instead of seeking out what it was that I wanted for myself, on my own terms. I was simply chasing a dream.
So I've dedicated much of my life, and my life's work to waking people, like me, up from the dreams they were chasing...waking up the world. I want to show the world what we've known all along but have never accepted to be true. I want to show it to them in a whole new light.
http://www.facebook.com/prosperunlimited
http://www.twitter.com/kevinferere
http://www.youtube.com/kevinferere
TRACEY AMBROSE W.R.A.P.
"Where Crochet Meets Classy and Chic"
TRACEY SYKES AMBROSE
Owner / Designer
Tracey Ambrose is a busy wife and proud mother of two young boys,
ages 11 (Little Kirk)
and 4
(Kerrington) she has been married for 14 ½ years to Kirk Ambrose.
Tracey has prepared herself for the fulfillment of her dream as a prosperous and successful business
woman.
After completing both her undergraduate studies in Business Management at University of
Phoenix, she earned a BSB/M degree in 2006. Recognizing the competitive environment of the fashion
design industry, she further earned a master's degree in business administration in 2007.
The California native has turned her hobby into a fashion passion. A
ccessories and wearable fashions are consistently strutted on urban runways. It's not enough that
the TRACEY AMBROSE W.R.A.P. line of hand crocheted hats, handbags and scarves aren't your
grandmothers'; her catalog of organic art includes hand crocheted leg warmers, bolero/shrug style
sweaters, jewelry and more…offering a layered look in vibrant colors.


Her designs of contemporary

From the runway to the market: Darla's Boutique of Lancaster (closed in summer of 2009), Second Wind
Day Spa in Palmdale, CA, Tha Hotness dot com (blog), interviewed on LA Talk Live (September 2011)
and publications/blogs/talk radio offering the exquisite hand crochet line to its clientele. Equipped with
a natural flair for designing stand-out pieces and an education to market them…
Tracey is ready to make
Teri Clay's Favorite Things (August 2011, based out of Atlanta, GA); and most recently featured in
ronze Magazine (1st year Anniversary publication; based out of New Jersey) of independent boutiques
Tracey Ambrose W.R.A.P. a well known brand in the industry.
Tracey Ambrose W.R.A.P. (with revelation and purpose)
Hand crocheted accessories are not just for grandmothers.
"Where crochet meets classy and chic"
Welcome to the Spotlight!
Tamyka Washington!
Tamyka Washington is a wife, mother to six, Founder of TheCEOMamma Network,
marketing strategist, coach and mentor. Tamyka empowers new and seasoned women
entrepreneurs to business breakthrough by blending powerful attraction marketing
methods with effective social media strategies to establish a
CREDIBLE
brand and
profitable freedom based business online.

For online marketing and business building tips, visit: http://tamykawashington.com
Warmest Regards,
Tamyka Washington|TheCEOMamma
Welcome to the Spotlight!
LaTersa Blakely owner of The LaTersa Diaper Cake!
What Is The
LaTersa
Diaper Cake?
The LaTersa Diaper Cake

is
is a unique and elegant creation designed to look like a
wedding cake with multiple layers and tiers. Instead of flour, eggs, and butter, our wonderful cakes are all created using newborn diapers, tons of adorable ribbon, and high-quality baby items. Some brands used in our creations include Gerber, Carter's, and Johnson and Johnson travel kits that are receiving blankets, hand towels, Pamper Swaddler diapers, bottles, and in our line of Signature Diaper Cakes, we include a beautiful handmade bath gift set made from Majestic Events & Gift, Inc.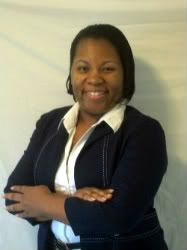 So, how did it all began?
"It started when I was a little girl. My late grandmother taught me how to quilt, sew and make baby doll clothes. My grandmother birthed five beautiful children in which my mother was the only girl. From that love, I started baking cakes and designing gift baskets for family and friends. Throughout the years, my passion for designing became larger than I could ever imagine. Once becoming a mother, I wanted to find a way that I could eliminate childcare and be home with my two beautiful children. So, that is when Baby Diaper Cakes & Beyond by LaTersawas born."
LaTersa Blakely is the Owner and Creative Designer of "Baby Diaper Cakes and Beyond by LaTersa". She is the founder ofMoms Wearing Multiple Hats, where she shares business tips formom entrepreneurs and inspiration to help them balance motherhood and work. She is an entrepreneur, author, wife, and mother of two beautiful children. LaTersa received her Bachelors Degree in Agriculture Economics from the University of Arkansas At Pine Bluff and her Master's Degree in Agri-business Management from Alabama A&M University. Since launching her website in 2010, moms all over the world have raved about her beautiful diaper cakes.
Take a look at all the charming

diaper designs we

have to offer. I guarantee you'll find something that you love too!
Office hours: 10AM-6PM M-F
Address:
Serving Nationwide
If you have a business that we feel people should know about they will find you here so make sure you email your business website information to socialbuthafli@gmail.com for consideration.
Thank you
Deltra Perryman
President
SocialButhafli.ne
t